Bitcoin Price Holds at $28,100 – Calm Before The Storm?
Join Our Telegram channel to stay up to date on breaking news coverage
Bitcoin is on the brink of breaking out following a two-week consolidation period that saw the largest crypto hover between $27,000 support and resistance around $29,000, as established on Tuesday. With higher support at $28,100 now intact, it could only be a matter of time before Bitcoin price climbs to $30,000.
Traders Sit Tight as Optimism Builds for A Massive Bitcoin Price Breakout
According to Santiment, traders and investors "started the week with a big uptick in optimistic keywords like bullish, buying or bottom" as they expected BTC to keep trending north, with $30,000 as the short-term target.
🤞 Traders have started the week with a big uptick in optimistic keywords like #bullish, #buying, or #bottom. The weekend actually had spikes in more negative words like #bearish & #selling. Watch for the crowd getting too prematurely excited about $30k. https://t.co/iXMa7s1pcs pic.twitter.com/kd7DL8EFDN

— Santiment (@santimentfeed) April 3, 2023
Michaël van de Poppe, a renowned analyst told his over 652k followers on Twitter on Wednesday morning that Bitcoin is on the path to $30,000. In his opinion, BTC holding onto the "Crucial area at $27,900 held and breakout overnight upwards to $28,700" with the consolidation allowing it to build momentum ahead of the next breakout to $30,000.
#Bitcoin follows the path.

Crucial area at $27,900 held and breakout overnight upwards to $28,700.

Consolidation makes it likely that we'll be continuing towards $30,000. pic.twitter.com/0KjNN3lBfX

— Michaël van de Poppe (@CryptoMichNL) April 5, 2023
Investors and selected analysts believe Bitcoin price has officially bottomed and this may be the beginning of a bull run. Captain Faibik asked his 54k followers on Twitter, is "a Bitcoin bull run officially starting with a daily close above the SMA500?"
"Historical Trends suggest that Bitcoin has Experienced Significant Bullrun after Breaking out above the SMA500," Faibik added in the tweet accompanied by a Bitcoin price chart.
Assessing Bitcoin Price Profitability
Bitcoin price is trading in a narrow range between $27,000 and the seller congestion around $29,000. Last night's rebound from support at $28,100 allowed bulls to launch another attack on the resistance area at $29,000.
The 50-day Exponential Moving Average (EMA) (line in blue) strengthened the buyer congestion at $28,100, as bulls took back the reins.
Although a break and hold above $29,000 was yet to be achieved, Bitcoin is trading at $28,555, a position that might call more retail traders into the market to capitalize on the anticipated move beyond $30,000.
The Moving Average Convergence Divergence (MACD) indicator upholds the positive outlook for Bitcoin price with a recently sent buy signal. This call to investors and traders to buy Bitcoin manifested as the MACD line in blue crossed above the signal line in red.
Three key levels may determine how Bitcoin price concludes this week's trading, with a break above $29,000 likely to propel BTC above $30,000. Meanwhile, support at $28,100, made relevant by the presence of the 50-day EMA, is the pivotal level.
In other words, if Bitcoin does not break out to $30,000, it may be forced to continue with the consolidation around the pivotal level to give time for bulls and bears to resolve the stalemate.
On the downside, trading below $27,000 may trigger a sell-off as retail investors hold onto their positions in anticipation of a breakout to a $30,000 rush to protect their capital. That said, we cannot ignore the possibility that Bitcoin may drop to the 200-day EMA (line in red), slightly above $26,000.
If push comes to shove, the largest cryptocurrency could extend the dip to $24,000.
Bitcoin price shows a slightly different picture on the daily time frame chart with influence from bears likely to grow if it does not break and settle above $29,000 soon. The MACD dons a minor sell signal, which may not negatively impact BTC price unless the uptrend gets rejected from $29,000.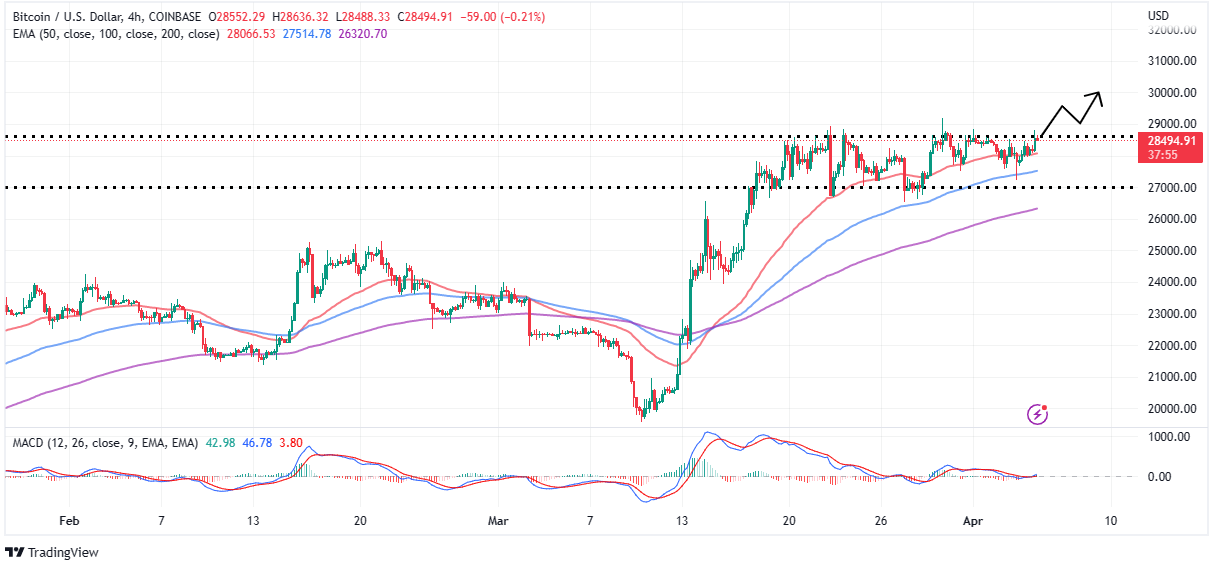 The On-Balance-Volume indicator reveals a gradually improving inflow volume at 1.246 million at the time of writing. If money into the BTC markets increases to significantly overwhelm the outflow volume, momentum would build behind Bitcoin and support the coveted upswing.
The crypto fear & greed index, presented by Alternative.me shows the market sentiment at 62, in the greed area of the chart as shown below. This index tracks and analyzes "the current sentiment of the Bitcoin market" on a scale of 0 to 100, where zero represents "extreme fear" while 100 represents "extreme greed."
With the fear & greed index holding at 62 in early April, it implies that sentiment is positive, bolstered by the fear of missing out (FOMO). In other words, investors are likely to keep buying, afraid to miss out on the uptrend market, thus driving Bitcoin price higher.
Bitcoin Alternatives To Buy
Investors may want to consider some of the best altcoins to buy as they adjust their portfolios after the first quarter of the year. Some of the tokens listed here offer affordable entry points compared to Bitcoin, which most investors may find too expensive.
InsideBitcoins' team reviews the list of best crypto presales every week as they offer a better risk-reward ratio.
The team behind Metropoly is introducing an innovative way of driving investment into the real estate industry, tapping the decentralized power of blockchain technology.
Users on this platform will for the first time be able to invest in real estate properties around the world within a record 20 seconds, drastically cutting the time from the traditional 60 days needed to complete the purchase of any property.
Metropoly is building the first innovative NFT marketplace to bolster investment in income-generating properties, while at the same time, eliminating the need for intermediaries like banks which often introduce hidden fees.
Investors are buying METRO tokens in an ongoing presale that has bagged $1.12 million. At stage 11 of the presale, 1 METRO is selling for $0.0769, and users are requested to hurry because this is the last chance before the token lists on exchanges for the first time, as 90% of the presale has been raised.
Metropoly brings the world to your fingertips! 🌎 🏠

🔥 Buy real estate in seconds using crypto🔥 Receive completely passive monthly rental income🔥 Buy & sell shares on our decentralised real estate NFT Marketplace

Join the presale now 👉 https://t.co/sudxOznyWn pic.twitter.com/CtyA7pGnhq

— METROPOLY – PRE-SALE IS LIVE! 🔊 (@metropoly_io) April 3, 2023
Ecoterra launched its presale campaign earlier this week to give investors a chance to contribute to the project, best suited to help overhaul our mindset on recycling and fostering responsibility.
Ecoterra is building this revolutionary ecosystem on four distinct pillars – The recycle-2-Earn application, carbon offset marketplace, recycled materials marketplace, and the impact trackable profile.
The Ecoterra app allows users to earn Ecoterra tokens by recycling items they scan through the app.
Each recycled item is worth a certain amount of Ecoterra tokens, which can be held, staked, or spent on various ecological activities such as ocean and beach cleanups, tree planting, or supporting green energy projects worldwide.
Additionally, using the app to generate green energy can also earn users Ecoterra tokens as rewards. All climate actions are tracked and added to the user's profile, allowing for achievements and NFTs.
You can start making an impact on the environment today with the EcoTerra app by participating in an ongoing presale ahead of the initial exchange listing.
Related Articles:
Love Hate Inu – Newest Meme Coin
Decentralized Polling – Vote to Earn
Early Access Presale Live Now
Ethereum Chain
Featured in Yahoo Finance
Mint Memes of Survey Results as NFTs
Staking Rewards
Viral Potential, Growing Community
Join Our Telegram channel to stay up to date on breaking news coverage