Bitcoin Price Holds at $28,100 – Quo Vadis, Bitcoin?
Join Our Telegram channel to stay up to date on breaking news coverage
Bitcoin, the largest cryptocurrency in the world, staged a remarkable rally in March, notwithstanding the fallout of several lenders in the United States. However, the coin stalled roughly at $29,200, a 10-month high, and is currently in consolidation ahead of another breakout, but this time investors are rooting for highs above $30,000.
"Bitcoin, in the wake of the fallout of a handful of US lenders last month, staged a rally that brought it from around $20,000 to $28,000 in a matter of days." Bloomberg Crypto wrote said in a recent Twitter post, adding. "Yet the coin has seemingly stopped its advance at $28,000."
All Eyes On $29,000 As Bitcoin Price Seeks Support
In the last 24 hours, Bitcoin price lost 1.8% of its value to trade at $28,064 at the time of writing on Thursday. Its 24-hour trading reached nearly $15 million.
Some experts believe that the sideways choppy market is mainly due to shrinking volumes in the crypto market, as small retail traders wait on the sidelines for BTC price to resolve the stalemate between the bulls and bears and determine the next direction it would take.
The daily chart reveals that Bitcoin price is trading within a narrow range with support at $27,000 and resistance around $29,000. A break to either side of this range would end the consolidation.
The region at $28,000 is functioning at the pivotal level, with BTC swinging up or down to test the range resistance and support. According to Michaël van de Poppe, a popular analyst, "the $28,600 price level for #Bitcoin remains to be resistance," he told his 652k followers via a tweet on Thursday morning.
Poppe believes the current market structure limits Bitcoin price ability to stage a rally to $30,000, at least not immediately. In his opinion, "you'd like to see a sweep in support again" around $27,600."
"If that holds and we'll bounce back up, continuation until either $27,600 or $28,600 gets tested again," Poppe added.
Selected indicators applied to the daily chart below hint at the path with the least resistance staying downward in the short term, starting with a confirmed sell signal from the Moving Average Convergence Divergence (MACD) indicator.
Despite having a confirmed buy signal, investors who would like to book short positions in BTC must be cautious and consider waiting until the coin topples immediate support at $28,000 and slides below the accelerated dotted ascending trendline.
For such a trade, investors would be looking at a potential profit target of around $27,600, as Poppe mentioned. They must also make sure the MACD upholds the ongoing downward trend to the mean line—and possibly into the negative region, below the same mean line.
Has The Bull Run Started?
According to CryptoQuant, one of the leading on-chain analytics platforms, Bitcoin is "a long way to bull-run." The platform in its latest Twitter post about the performance of the largest cryptocurrency quoted Crazzyblock, one of its verified authors, who said:
"Based on the #Bitcoin price cycle in 2015-2016 and 2018-2019, when the 1m-6m age bands' realized price value passed the 6m-12m age bands realized price, after the pre-bull run price correction, the bull run began."
Meanwhile, Bitcoin's position on the four-hour chart paints a short-term bearish picture with the likelihood of retesting support at $27,600 before the end of the day—and if push comes to shove, investors can expect Bitcoin price to stretch the leg to $27,000.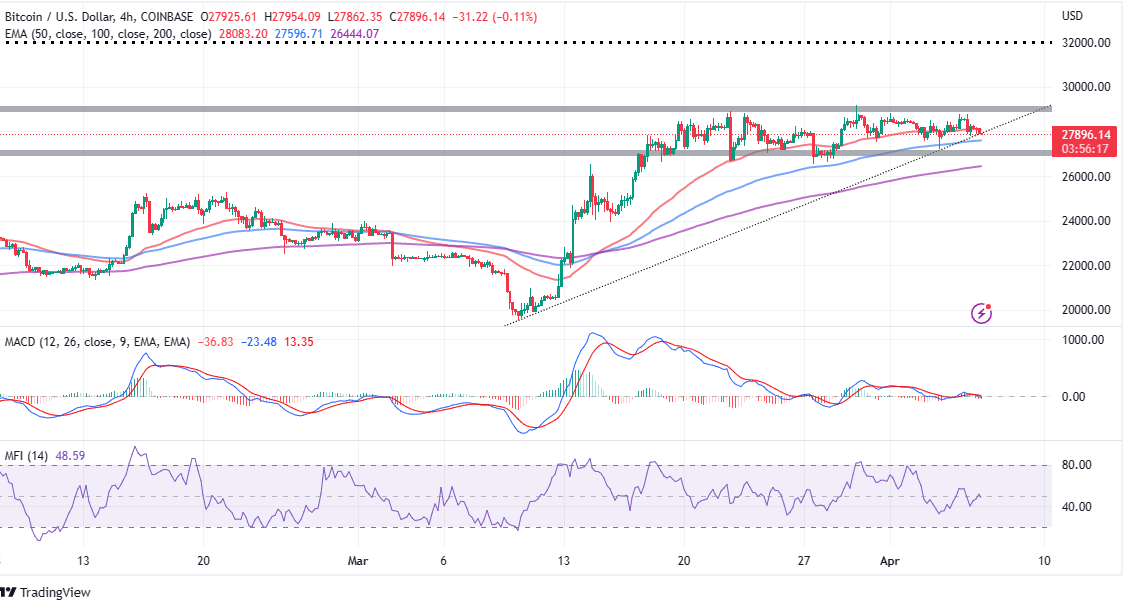 Traders cannot immediately rule out the possibility of Bitcoin price dropping to test the 200-day Exponential Moving Average (EMA) (the line in blue) at $26,429. It is important to note that will be Bitcoin is safe from a massive plunge as long as it holds within the range, with support at $27,000 intact.
There is no guarantee the 200-day EMA support will absorb all the selling pressure. Although BTC has performed exceedingly well over the last few weeks, despite being bombarded by increasing regulatory pressure from the US, retail traders holding positions in the prevailing consolidation may want to avoid capitulation in case BTC starts to trim gains.
That said, panic selling might complicate Bitcoin price's structure, leading to yet another dip to $24,000 before it makes another aggressive attack on the resistance at $29,000 for the coveted breakout above $30,000.
The bull run may have to wait for Bitcoin price to secure robust support and sweep through fresh liquidity to keep the uptrend going. The MACD, just like on the daily chart, upholds a bearish outlook in the four-hour timeframe.
Investors should keep their eyes on three key levels on Thursday, starting with the range resistance at $29,000, the range support at $27,000, and more importantly, the pivotal level at $28,000.
A break below the ascending trend line could pave the way for losses to the 200-day EMA as earlier established. On the upside, a sustained break and hold above the range limit at $29,000 might be BTC's ticket to gains above $30,000.
Bitcoin Alternatives To Consider
Investors may want to consider some of the best altcoins to buy as they adjust their portfolios after the first quarter of the year. Some of the tokens listed here offer affordable entry points compared to Bitcoin, which most investors may find too expensive.
InsideBitcoins' team reviews the list of best crypto presales every week as they offer a better risk-reward ratio.
Love Hate Inu is a new sensational meme coin that hopes to completely overhaul how the survey and poll market functions. The platform, which will be powered by a crypto token LHINU, will allow users to have a say on whether they love or hate divisive figures like Elon Musk, Cristiano Ronaldo, and Donald Trump, as well as the controversial Andrew Tate.
LHINU owners will be able to stake their tokens, to be allowed to have a say in the polls through a blockchain-controlled voting process. The best part? Every time an LHINU owner takes part in a vote, they will be eligible to receive financial rewards (hence why Love Hate Inu's economic model is referred to as "vote-to-earn").
Note that these rewards will be provided by the creator of each poll on the platform. The more tokens users stake, and the longer the vesting period, the more voting power they will have. The Love-Hate Inu team says this way, they will reduce risks such as vote manipulation and spam accounts.
Investors who move quickly will be able to buy LHINU tokens for the highly discounted price of $0.000105 in the ongoing presale. But in just over nine days, that price is set to rise to $0.000115 as the vote-to-earn project nears its initial exchange listing.
Attention #LoveHateInu Gang!🚨

We have just smashed the $2.9M milestone in our #Presale🎉

We couldn't have done it without you!🙌

Brace yourself for the upcoming CEO Announcement🤑

As we are nearly at $3M!😜

You won't want to miss this! Keep an eye out!🚀… pic.twitter.com/p0tUNURF98

— Love Hate Inu (@LoveHateInu) April 6, 2023
As the world moves into an error of Web3, most global markets and assets would be bought, sold, and stored differently. One project that is already making headlines in the Web3 scene for its revolutionary innovation in real estate investing is Metropoly.
Here is what you get with Metropoly 🔥

✔ Invest in prime real estate around the world using crypto✔ Own real estate without managing the property✔ Diversify your investments✔ Earn truly passive income monthly✔ Buy & sell shares in seconds

👉 https://t.co/tpOwICvgol pic.twitter.com/lrsG5QxBeh

— METROPOLY – PRE-SALE IS LIVE! 🔊 (@metropoly_io) April 6, 2023
Metropoly is a crypto platform currently decentralizing the real estate industry with the help of NFTs. Users on this platform can invest in any property around the world with as little as $100 and in less than 20 seconds.
Metropoly stands out with its simple and user-friendly platform targeting individuals who wish to invest in fractional real estate. The process of investing via Metropoly is straightforward, requiring users to simply connect their crypto wallet, search the marketplace for properties such as apartments, penthouses, or villas, within a few clicks and finish by making a purchase.
Investors are scooping up METRO tokens in an ongoing but fast-selling presale, where $1.13 has been raised ahead of the first exchange listing, expected soon.
Related Articles:
Love Hate Inu – Newest Meme Coin
Decentralized Polling – Vote to Earn
Early Access Presale Live Now
Ethereum Chain
Featured in Yahoo Finance
Mint Memes of Survey Results as NFTs
Staking Rewards
Viral Potential, Growing Community
Join Our Telegram channel to stay up to date on breaking news coverage