Bitcoin Price Rises To $27,300
Join Our Telegram channel to stay up to date on breaking news coverage
Bitcoin (BTC) began the trading week in the green, reclaiming the crucial $27,000 support level. This follows last week's disheartening losses which saw the big crypto drop as low as $25,904 on Friday, recording new monthly lows.
Data from TradingView and CoinMarketCap shows that Bitcoin is exchanging hands around $27,130, down roughly 1% in the past 24 hours. After bouncing off the ascending trendline, BTC settled above the $27,000 buy wall as bulls began picking up the steam. What could be the reason for this?
Debt ceiling talks could trigger a bullish price action in Bitcoin
The Biden administration is in talks with Congress to extend the debt ceiling and avert the United States defaulting on its debt. These negotiations have been keeping market participants on the edge, eliciting different expectations.
US President Joe Biden and Republican House of Representatives Speaker Kevin McCarthy entered a critical week for debt-ceiling talks, hoping they could find common ground on spending levels and energy regulations to avert a devastating default https://t.co/SV47Lq9TjS pic.twitter.com/v7Z30NoBph

— Reuters (@Reuters) May 15, 2023
For example, Jamie Dimon, CEO at JPMorgan Chase, said that a possible debt default by the US government could create panic in the stock markets, triggering massive volatility, reported CNBC.
In a Monday note, senior market analyst at foreign exchange market maker Oanda Edward Moya suggested that the debt ceiling negotiations will "tell us a lot if investors believe Bitcoin can behave more of a safe-haven despite all the regulatory uncertainty."
The next big question on investors' minds is how will Bitcoin react to such an event.
Moya added:
Bitcoin seems poised to stay in a range, but if risk aversion triggers a de-risking moment, we could see selling pressure extend below last week's low.
Meanwhile, the latest Markets Live Pulse survey by Bloomberg indicates that failure by the US government to prevent a debt default could make the flagship cryptocurrency the third-most preferred asset class behind gold and U.S. Treasury bonds.
Increasing Accumulation Points To Investor Confidence In BTC
While the recent downturn may have seen some investors panic-sell their cryptos, others took advantage of the discounted prices to fill up their Bitcoin reserves. 
Insights from Glassnode, an on-chain and financial metrics analytics firm, show that the number of wallets holding 1 BTC or more has crossed the 1 million mark. According to the data, the one million "wholecoiner" milestone was reached on May 13. 
The 'Wholecoiner' movement consists of Bitcoin maximalists who aim to get their holdings to at least 1 BTC, making a whole coin.
At the time of writing, there are now over 1 million addresses holding at least 1 BTC for the first time in history. 
From the chart above, it can be seen that investors tend to buy more Bitcoin during a downtrend. For example, the number of wallets holding one Bitcoin or more spiked over the course of last year when the price fell more than 65%.
The most notable surges occurred during the market crashes in June and particularly in November when FTX collapsed and subsequently filed for Chapter 11 protection.
Generally, accumulation leads to a reduced supply of an asset in the market. Reduced supply creates scarcity, which in turn leads to higher prices. So such a scenario could be what triggered the recovery over the weekend.
This could continue playing out in the near term, as more people hold on to their BTC, the price would increase. 
Bitcoin Sits On Strong Support On The Downside
At the time of writing, BTC was trading above the ascending trendline and the 100-day SMA which sat at $26,321. Increased buying from these support areas could propel BTC higher to confront resistance from the 50-day SMA at $$28,550.
Shattering this barrier would provide the hindwings required to face supplier congestion from the zone extending from $28,550 and $30,578. If this happens, Bitcoin would rise above the $31,170 range high to set new years highs above $32,000.
BTC/USD Daily Chart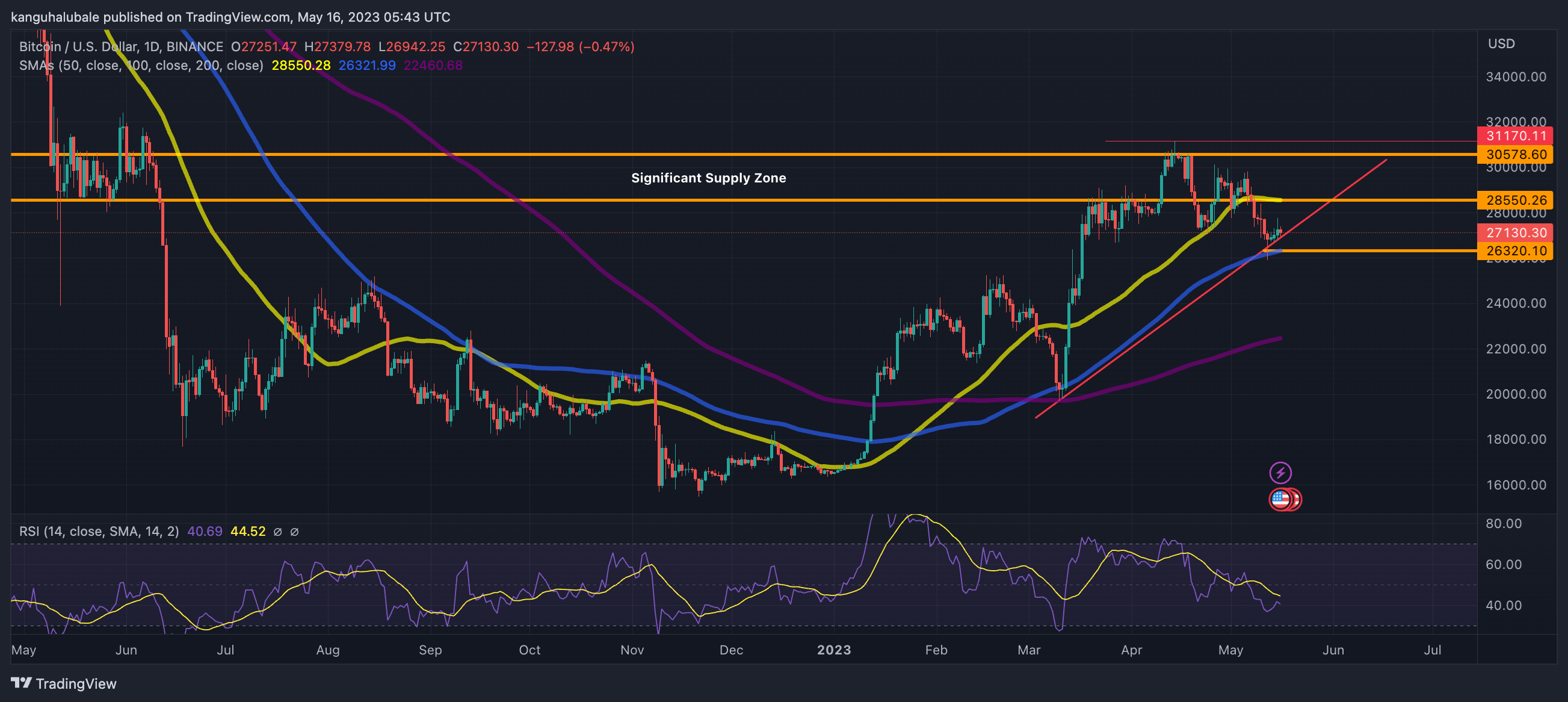 The significance of the support enjoyed by the pioneer cryptocurrency was reinforced by on-chain data from IntoTheBlock. Its Global In/Out of the Money (GIOM) model showed that BTC enjoyed relatively strong support on the downside when compared to the resistance it faced in its upward path.
For example, the demand zone extending from $18,237 to $23,826 – within which the 200-day SMA lay, was where approximately 2.48 million BTC were previously bought by roughly 5.92 million addresses. 
Any attempts to pull the price below this area could be met by aggressive buying from this cohort of investors who may want to increase their profits.
Bitcoin IOMAP Chart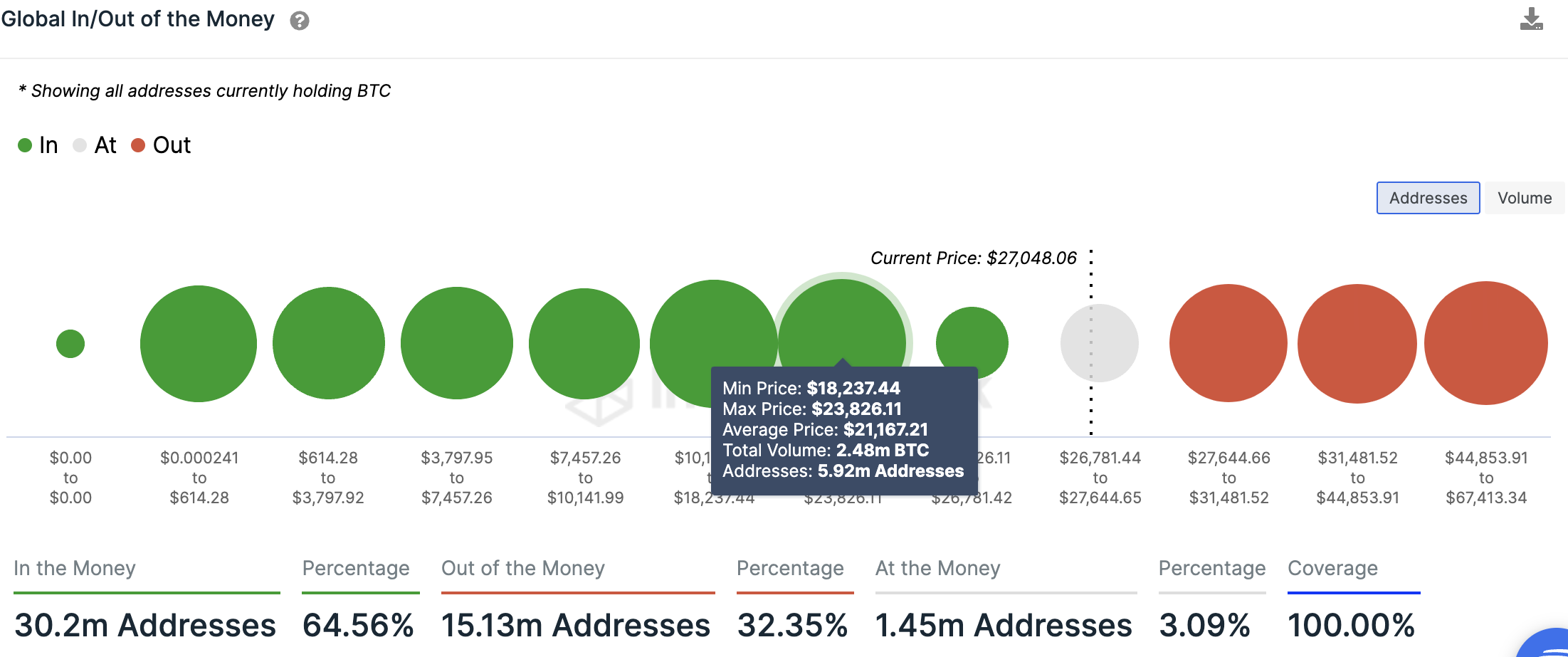 On the downside, BTC faced stiff resistance from the daily supply zone shown in the chart above. The Relative Strength Index (RSI) had begun tipping downward. The price strength at 40 suggested that there were still more sellers than buyers in the market.
These sellers could pull BTC back below $27,000 with the first line of defense being found at the 100-day SMA at $26,321. 
Additional lines of defense could emerge from the $25,000 psychological level and the 200-day SMA sitting within the $22,000 zone. Traders could expect Bitcoin's downside to be capped here in the meantime.
Promising Alternatives To BTC
Bitcoin remains range-bound over the last two months and has failed to rise and sustain above $30,000. This has left many investors skeptical about whether it will recover fully in 2023 or continue last year's bear market.
As investors ponder on BTC's price action, they could look to other new cryptocurrencies with the potential to bring 10x returns.
One such crypto is AiDoge, a revolutionary meme coin, utilizes generative AI technology on its viral meme-making social media platform.
AiDoge presents investors with the perfect balance between artificial intelligence (AI) and the meme coin craze. The project is building a new ecosystem powered by web3 that will enable users to share and vote on memes generated by other users.
The revolutionary "meme-to-earn" model has caught the attention of many in the cryptosphere with the presale raising more $7.9 million in a matter of weeks.
Don't be like this guy! 😂

You can buy $AI now or FOMO in later. The choice is yours! 😎

Our #Presale is selling out fast! You guys are amazing 💪 ⭐️

Hurry and join the #Presale before the next price increase 🚀💎 👉 https://t.co/5j5tt4smcs#Crypto #Web3 $PEPE $SPONGE $FLOKI pic.twitter.com/AdS3OTt7Vj

— aidogecrypto (@aidogecrypto) May 15, 2023
Those interested in buying AI tokens must hurry as the discounted price will increase to $0.0000304 from the current $0.00003 in a few days.
Visit AiDoge here to get your $AI tokens at a discounted price. 
Related news:
AiDoge – New Meme to Earn Crypto

Earn Crypto For Internet Memes
Early Presale Stages Open Now, CertiK Audited
Generate Memes with AI Text Prompts
Staking Rewards, Voting, Creator Benefits

Join Our Telegram channel to stay up to date on breaking news coverage