Libertex €50,000 Demo Acc Lets You Access All Trading Possibilities
62% of retail investors accounts loose money.
With the Libertex €50,000 demo account, you can explore all trading possibilities without risking your funds.
Trading is gaining popularity over time. However, trading is not as easy as it sounds. In particular, several platforms only allow you to trade when you literally buy a particular asset. This is highly impossible for many due to the higher price of various assets.
But what if we told you that you could trade stocks, cryptocurrencies, and other assets without actually purchasing them? That is where Libertex's CFD platform comes into action. Let us take a look at Libertex and how it provides CFD trading to its users with a demo account.
Libertex in a nutshell
Libertex is a CFD trading firm that operates online. Commodities, foreign exchange, ETFs, and cryptocurrencies are among its fundamental assets. The Libertex organization serves millions of customers in the EEA and Switzerland.
Furthermore, the platform has established itself as one of the leading CFD companies. Indeed, Libertex has earned notable recognition. The platform has received more than 40 prestigious international recognition and awards.
Practice on a €50k demo account with Libertex
Getting used to CFD trading and getting the hang of it takes time. It is not advised to put your capital at risk in such a situation. That is where the free demo account of Libertex comes to the rescue.
Libertex provides you with a feature to practice trading on a demo account. This saves you from completely burning out your account if you are new to CFD trading.
With your demo account, you get a €50,000 virtual balance. Users can utilize the virtual balance to practice trades. The demo account will provide all the features and strategies of a real account.
In a demo account, there is no real money involved, but users can use the balance to do any trade. On the other hand, in a real account, users will be depositing real funds and trading with real money.
The demo account allows users to trade securely while still getting access to all the platform features. Moreover, you can also get your hands on educational materials that can help you master the trades.
How to get started with Libertex?
Beginning your journey with Libertex is simple. Here is how you can sign up and begin trading with Libertex:
Register or sign up for an account on LibertexSubmit your details and verify your accountIf you are new to CFD trading, utilize the demo accountYou can make use of the €50k demo account to practice tradingYou can ramp up your trading skills and improve your strategy with the demo accountYou can familiarize yourself with the user interface and trading toolsOnce you are ready to fund your account, choose your payment methodFor payment, credit/debit cards, wire transfers, PayPal, Skrill, Neteller, and Jeton methods are available
Even though many trading platforms provide a demo account option, the features are limited. Most of the time, you don't have access to the full-fledged features unless you make a deposit.
But with Libertex, you get access to all the features, pro tools, and strategies without the initial deposit. Sounds remarkable, right?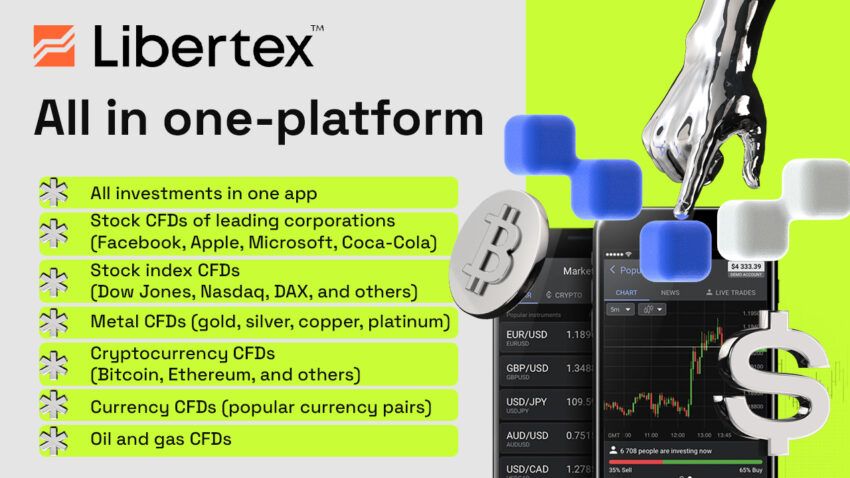 What's more?
With the popularity of crypto rising, Libertex has some good news for crypto traders. The platform offers crypto CFD trading with zero commission, exchange fees, and swap fees with tight spreads.
Users can avail of this offer with a minimum deposit of €100. However, the amount does not have any commission fees or charges and can be used for crypto CFD trades by the traders.
Alongside this, the platform also offers tight spreads. A tight spread is when the difference between the asking price and the bid price is narrow or tight.
CFD trading is complicated and risky. Although Libertex offers a user-friendly platform, do your homework. CFDs are instruments that carry a notable risk of loss. Before you start trading, be aware of CFDs and the dangers they entail.
Final thoughts
The risk of losing capital is one of the difficulties new traders face. The necessity of a demo account that can offer all the features is a lifesaver.
The €50k demo account lets users use all of Libertex's features without any limitations. The virtual balance will aid users in getting the hang of all the tools and strategies.
With Libertex, users need not deposit real money until they practice and master the trade. If you are searching for a dependable, user-friendly platform with years of industry trust and expertise, Libertex is the platform to go for.
FAQs 
The criteria for demo trading are nearly identical to those for genuine trading accounts. The primary distinction is that a demo account is risk-free because no real funds are at risk. Demo accounts' funds are basically virtual credits.
€100 is the minimum deposit on Libertex real account.
Since the funds in a demo account are basically virtual credits, the funds from the demo account can't be withdrawn.
Libertex is one of the best brokers for trading demo accounts.
On a demo, there is no actual financial risk.
The main distinction is that when using real accounts, you will trade with real money, whilst demo accounts employ fictitious currency with no actual value. The market circumstances for demo accounts are identical to those for real accounts other than that, making them the best option for testing out your strategy.
Follow them on social media:
Website | Facebook | Twitter
Disclaimer
All the information contained on our website is published in good faith and for general information purposes only. Any action the reader takes upon the information found on our website is strictly at their own risk.
Source link