Vote-to-Earn Project Love Hate Inu Raises $2 Million
Vote-to-earn project Love Hate Inu (LHINU) has raised more than $2 million through its ongoing crypto presale. This innovative Web3 project aims to revolutionize the online polling industry by rewarding users for participating in online surveys.
Love Hate Inu's presale has generated a lot of excitement among investors. The project raised more than $500,000 in the first 6 days of its presale, and the $2 million milestone came only 3 weeks after the presale launched.
Now, the Love Hate Inu presale is in Stage 3 out of 8 stages. For a limited time, investors can buy LHINU at a price of  1 $LHINU = 0.000095 USDT. Less than a week remains until the presale moves to Stage 4 and the price of LHINU increases again.
Rewarding Users for Casting Their Votes
Love Hate Inu offers a completely new approach to online polling that it calls vote-to-earn.
On this platform, users must stake LHINU tokens for a minimum of 30 days in order to cast votes in a poll. A user's voting power is directly proportional to the amount of LHINU they stake and the staking period they choose.
Community members can then cast their vote: love or hate. This simple choice is both engaging and straightforward. All votes are recorded permanently on the blockchain.
As a reward for voting, Love Hate Inu community members earn LHINU tokens. This provides a built-in incentive for users to let their voice be heard in each poll and to return to Love Hate Inu for subsequent surveys.
While this vote-to-earn mechanism may seem simple, it represents an innovative solution to the problem of conducting surveys online. 
The platform's staking requirement and blockchain recording ensure that votes cannot be manipulated or controlled by a small group of users. The rewards ensure that Love Hate Inu community members are rewarded for the time they spend voting.
Love Hate Inu's project aims squarely at the online polling industry, which today is worth an estimated $3 billion and is expected to grow dramatically as Web3 expands.
Visit Love Hate Inu
Building a Platform for Virality
Love Hate Inu is more than just a place for users to cast their votes. It's also a public space where community members can work together to create the next viral meme.
Instead of simply enabling users to vote on topics like celebrities or trending memes, Love Hate Inu puts a twist on them. In examples on the presale website, community votes on public figures like Donald Trump and Elon Musk are accompanied by cartoons depicting them as angels or devils.
These cartoons are attached to each poll's results, creating a ready-to-explode meme that can be shared on social media platforms. That's a lot of fun for Love Hate Inu users, and it has the added advantage of sharing Love Hate Inu's platform far and wide across the internet.
Love Hate Inu is a community-centered project, and that's reflected in the format of the presale. The project is releasing 90% of its 100 billion token supply through the Love Hate Inu presale.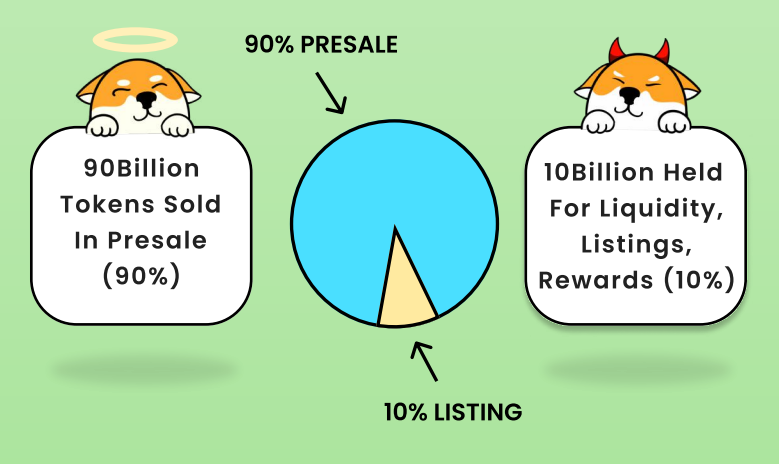 This ensures that individual users hold the vast majority of the LHINU supply. Unlike other crypto projects, Love Hate Inu's investment community will not be dominated by institutional investors or venture capitalists.
The remaining 10% of tokens are being held in the Love Hate Inu treasury to offer liquidity during an initial exchange offering and to provide rewards for early Love Hate Inu users.
Visit Love Hate Inu
The Future of Love Hate Inu
Love Hate Inu's development team plans to put poll creation in the hands of users shortly after the platform's launch. Users will have access to a personalized dashboard that enables them to propose polls, and then it's up to the community to decide which surveys should go to a full vote.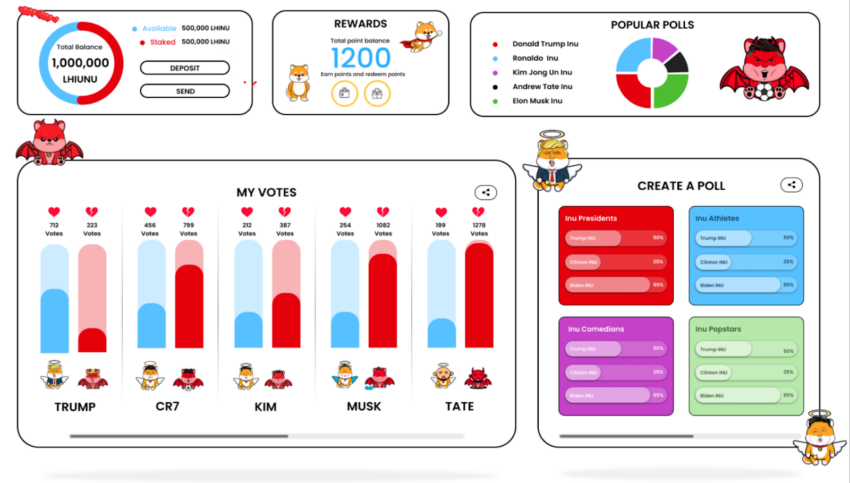 Creating new polls will also require users to stake LHINU tokens. Users will earn rewards for creating new polls just as they do for voting.
In addition, Love Hate Inu plans to partner with major brands and metaverse projects to bring in recurring revenue for the project. Brands can create their own custom polls and offer NFT rewards to increase user engagement. Metaverse projects can offer their own native crypto tokens or NFTs as rewards for voting.
Revenue from these partnerships can be used to buy back LHINU tokens, ensuring that there is a steady supply of LHINU token rewards for the community for years to come.
Price Increase Less Than a Week Away
Love Hate Inu's presale is split into 8 presale stages and it is currently in Stage 3. The price of LHINU increases during each subsequent stage, so investors can lock in the best price for this new meme coin by buying before the presale enters Stage 4 less than a week from now.
Individuals who invested during the presale are expected to earn unrealized gains of more than 70% by the end of the presale, while investors today could earn unrealized gains of up to 52%. 
There is no lock-up period for tokens purchased during the presale. So, investors can decide whether to cash out during the project's initial exchange offering or whether to start voting and earning rewards.
Visit Love Hate Inu Presale
Social Channels:
Twitter | Telegram | Telegram Announcement | Instagram | Discord
Disclaimer
This article is sponsored content and does not represent the views or opinions of BeInCrypto. While we adhere to the Trust Project guidelines for unbiased and transparent reporting, this content is created by a third party and is intended for promotional purposes. Readers are advised to verify information independently and consult with a professional before making decisions based on this sponsored content.
Source link